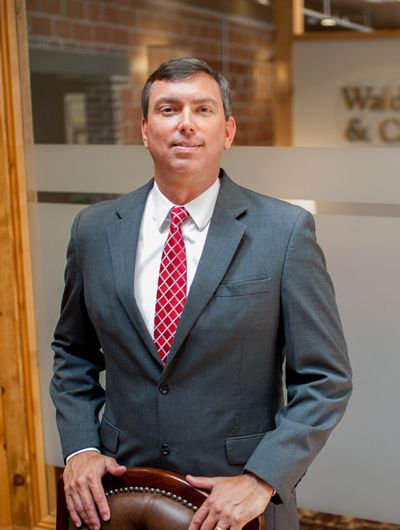 David Rayfield graduated with a B.A. from Rhodes College in 1994 and a J.D. from the University of Alabama in 2001. Following his graduation from the University of Alabama, David began his legal career by opening his own office with a law school classmate in Phenix City, Alabama. He enjoyed a general practice with an emphasis on civil litigation for his first five years in practice before joining a regional firm in 2006 where David focused his practice on business litigation and representing individuals that had been injured, damaged or otherwise harmed by others.
In July, 2015, David joined the law firm of Waldrep, Mullin & Callahan, LLC as a partner with a continued focus on civil litigation. Licensed in both Alabama and Georgia, David is currently focused on practicing law in the areas of commercial litigation, tort liability, personal injury, and wrongful death. He is also very active in the legal community, currently serving as Treasurer of the Columbus American Inns of Court and Secretary of the Columbus Bar Association. David also previously served as President of the Columbus Trial Lawyers Association (2013-2015), Vice-President of the Georgia Trial Lawyers Association, 2nd Congressional District (2015-2016), President of the Chattahoochee Bar Association (2009-2010), and President of the Russell County, Alabama Bar Association (2005-2006).
David and his wife Stuart, have 2 beautiful daughters, Vivian and Celia. In his spare time, David enjoys Alabama football (Roll Tide!), golf, and reading. He also serves as an active member of St. Paul Methodist Church in Columbus.
Education
Rhodes College – (1994) – B.A.
University of Alabama School of Law – (2001) – J.D.
Professional and Community Affiliations
Alabama State Bar
State Bar of Georgia
Columbus Bar Association (Treasurer, 2015-2016; Secretary, 2016-present)
Russell County, Alabama Bar Association (President, 2005-2006; Vice-President 2004-2005)
Georgia Trial Lawyers Association (Vice-President of the Georgia Trial Lawyers Association, 2nd Congressional District, 2015-2016; Chair of Business Litigation Section, 2010-2012)
Columbus Trial Lawyers Association (President, 2013- 2015; Vice-President, 2011-2013)
The Columbus American Inn of Court (Barrister; Treasurer, 2013-present)
Chattahoochee Bar Association (President, 2009-2010)
Muscogee County Library Foundation (Trustee, 2015-present)
St. Luke Early Learning Center (Board Member, 2010-present)
St. Paul Methodist Church (Finance Committee,
Licensed in:
Alabama, 2001
Georgia, 2002
Admitted to:
Supreme Court of the United States of America (2011)
All Alabama State Courts (2001)
Georgia Supreme Court (2002)
Georgia Court of Appeals (2002)
Eleventh Circuit Court of Appeals (2006)
U.S. District Court for the Northern District of Georgia (2002)
U.S. District Court for the Middle District of Georgia (2006)
U.S. District Court for the Middle District of Alabama (2004)